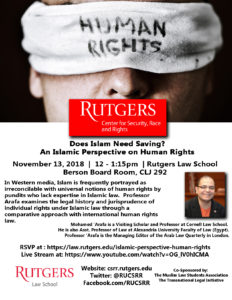 Does Islam Need Saving?
WHEN: Tuesday, November 13, 2018 – 12:00pm to 1:15pm
WHERE: Rutgers University Newark Berson Boardroom CLJ 292
The Rutgers Center for Security, Race and Rights is sponsoring a lunchtime talk on Tuesday, November 13, in the Berson Board Room (Room 292) in the Center for Law and Justice at 123 Washington St. in Newark.
The title of the talk is: Does Islam Need Saving by guest speaker Professor Mohamed Arafa, from Cornell Law School.
The event is free to attend, but visitors are asked to register at the link Does Islam Need Saving talk.