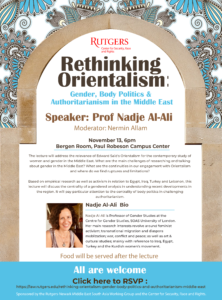 Rutgers-Newark Middle East South Asia Working Group 
& Rutgers Center for Security, Race and Rights present
 Rethinking Orientalism: 
Gender, Body Politics and Authoritarianism in the Middle East
Speaker: Prof Nadje Al-Ali
Moderator: Nermin Allam
November 13 at 6pm
Bergen Room, Paul Robeson Campus Center
The lecture will address the relevance of Edward Said's Orientalism for the contemporary study of women and gender in the Middle East. What are the main challenges of researching and talking about gender in the Middle East? What are the continuities in our engagement with Orientalism and where do we find ruptures and limitations?
Based on empirical research as well as activism in relation to Egypt, Iraq, Turkey and Lebanon, this lecture will discuss the centrality of a gendered analysis in understanding recent developments in the region. It will pay particular attention to the centrality of body politics in challenging authoritarianism.
Speaker's Bio:
Nadje Al-Ali is Professor of Gender Studies at the Centre for Gender Studies, SOAS University of London. Her main research interests revolve around feminist activism; transnational migration and diaspora moblization; war, conflict and peace; as well as art & cultural studies; mainly with reference to Iraq, Egypt, Turkey and the Kurdish women's movement.
Please RSVP here: https://law.rutgers.edu/rethinking-orientalism-gender-body-politics-and-authoritarianism-middle-east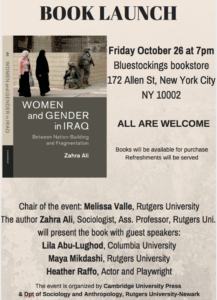 Event sponsored by Cambridge University Press &
the Sociology and Anthropology Department at Rutgers University-Newark
BOOK LAUNCH
Women and Gender in Iraq: Between Nation-Building and Fragmentation
Cambridge University Press, 2018 by Zahra Ali
Friday October 26 at 7pm
Bluestockings bookstore
172 Allen St, New York City
NY 10002
ALL ARE WELCOME
Chair: Melissa Valle, Rutgers University
The author Zahra Ali will present her book with guest speakers:
Lila Abu-Lughod, Columbia University
Maya Mikdashi, Rutgers University
Heather Raffo, Actor and Playwright
Since the US-ledinvasion and occupation of Iraq in 2003, the challenges of sectarianism and militarism have weighed heavily on Iraqi women. In this book, Zahra Ali foregrounds a wide-range of interviews with a variety of women involved in women's rights activism, showing how everyday life, political and intellectual lives have development since the US-led invasion. In addition to this, Ali offers detailed historical research of social, economic and political contexts since the formation of the Iraqi state in the 1920s.
Through a transnational and postcolonial feminist approach, this book also considers the ways in which gender norms and practices, Iraqi feminist discourses, and activisms are shaped and developed through state politics, competing nationalisms, religious, tribal and sectarian dynamics, wars, and economic sanctions. The result is a vivid account of the everyday life in today's Iraq and an exceptional analysis of the future of Iraqi feminisms.
Zahra Ali is a sociologist and Assistant Professor at Rutgers University-Newark. Her research explores the dynamics of women and gender, social and political movements in relation to Islam(s), the Middle East, and contexts of war and conflict with a focus on contemporary Iraq.
Books will be available for purchase and refreshments will be served.
Bluestockings link to the event: http://bluestockings.com/event/book-launch-women-and-gender-in-iraq-between-nation-building-and-fragmentation/?instance_id=193245
Facebook link to the event:https://www.facebook.com/events/2180989482159318/2180998388825094/?notif_t=plan_mall_activity&notif_id=15383890676514120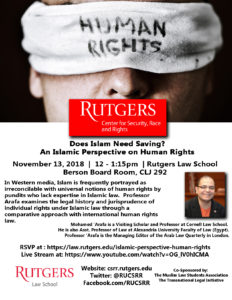 Does Islam Need Saving?
WHEN: Tuesday, November 13, 2018 – 12:00pm to 1:15pm
WHERE:  Rutgers Newark Berson Board Room (Room 292)
The Rutgers Center for Security, Race and Rights is sponsoring a lunchtime talk on Tuesday, November 13, in the Berson Board Room (Room 292) in the Center for Law and Justice at 123 Washington St. in Newark.
The title of the talk is: Does Islam Need Saving by guest speaker Professor Mohamed Arafa, from Cornell Law School.
The event is free to attend, but visitors are asked to register at the link Does Islam Need Saving talk.